Perfect for sealant application
Using our superior isolation systems will not only help create a moisture-free and contaminant-free working field, but will also contribute to the long-term success of the surface bonding when utilized prior to the placement of dental sealants. Restorative outcomes are improved by keeping the mouth dry and facilitating better impressions.
The Isolite Pro
Providing unparalleled control of the oral environment for a multitude of procedures due to its capabilities of improved visibility, oral humidity control, and contamination minimization, the new Isolite Pro also offers a brighter light, a more robust head design, and a suction hose that won't kink. It's everything you appreciate about Isolite, plus a whole lot more.
The Isolite Core
Quickly connecting to an available HVE line in the operatory, the Isolite Core is perfect for rounding out hygiene operatories with dual vacuum suction and easy-to-use oral control. Discover the ultra lightweight, easy-to-clean Control Head Assembly and take advantage of the many benefits that come with our award-winning mouthpieces.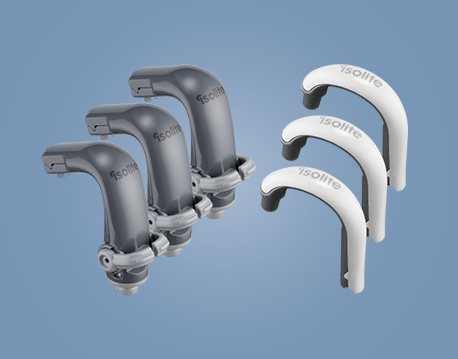 The Mouthpieces
All Isolite dental isolation systems utilize patented mouthpieces, which is the point where illumination, isolation and aspiration converge. Our award-winning mouthpieces are constructed of a flexible polymer that is softer than gingival tissue, ensuring a comfortable experience for your patients.
I love the Isolite system because it creates a shortcut on our sealants! I can do four sealants in about fifteen minutes whereas before it used to take me 20 to 30 minutes.
Rhonda Brilla, RDA
More Testimonials